I love that I am writing this post on Spring Break in the midst of a cozy, wonderful thunderstorm. This is one thing I love about spring!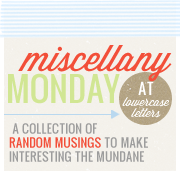 1. Wonderful news!
Who would have thought that just a few short weeks after announcing I am pregnant, my sweet friend Cait from "the blessed life" would announce she is too!!! Last year she and I taught together, with our classrooms side-by-side. We shared many wonderful discussions about life, God, marriage, teaching, blogging, and the future. She has been such a kind and generous source of encouragement to me. Who would have thought that this year we would be expecting sweet little ones just six weeks apart! I am so thrilled for my dear, sweet friend, and I look forward to sharing more of this journey with her. Please hop over to her blog to celebrate with her and her hubby!
2. Still sick.
This adorable bundle of blessing growing inside me is still affecting me with some seriously persistent nauseousness. Not the worst case, but enough to make it hard for me to eat large amounts of anything, or much of a variety. I'm kind of used to it though, and all along I've said I'll go through whatever I have to for this baby. Even if it lasts the entire time, I know it will come to an end when that new little life begins! More than worth it.
3. Log cabin living.
While I am honestly enjoying the quiet, serene, and cozy log cabin living, my heart is going through some moments of serious wonder about where we'll end up. I'm loving this set up, but it is not long-term. Please pray that God provides a home for us at just the right time. I've not gotten anxious so far in this process, and I really don't want to start. I know that He will provide, and I'm looking forward to preparing and setting up for Baby Love in our own place.
4. Storytime.
I think I've mentioned that my husband is part of the staff of a multi-site church campus, which is an extension of the main, much larger church in the area. Anyway, the campus launched in January, and while it's been a lot of work, it's been fun to build community there and invest in one particular part of the city. On Sunday mornings I have been the "storyteller" for the 3-5 yr. old's chapel or large group time. I tell the main bible story that the small group Sunday school teachers will reiterate with activities. It has been so much fun! I've quickly learned how good it is for me to have to get excited and silly in front of about 30 - 40 kids each week. I have loved seeing their amazement at Jesus' life and all the ways he loved others in the Bible and loves us now. It's also gotten me excited about stories with my own children, and I've been checking out some great sites with resources. One of my favorites is Hubbard's Cupboard. Lots of great info. for teaching little ones!
5. Go Butler!
A born and raised Hoosier at heart, I LOVE March Madness!!! I get so nervous every year when I'm filling out my brackets, then quickly make my way to the bottom of the standings and toss it out! :) It seems like every game this year has been a great one - so much fun to watch. Though I am sad for my husband as his beloved UK team lost in such a bummer of a way. I am looking forward to tonight...hoping it's not a repeat of last year's final game. Hope it's a great game - Butler all the way!!!
6. Dreams deferred.
Who remembers the post I wrote this time last year?? While my writing might not have reflected the depth of my feelings, that was an.awful.time. Many tears. Let me open your eyes to a little more of what went on. I, along with the rest of the staff had been waiting for a month to find out our new grade assignments, and it was extremely stressful. We were all anxious and on edge. I was desperately hoping to get kindergarten or first grade because I LOVE teaching that age...it was my dream. And I was eager to be done with the incredibly difficult first year teaching experience and move on to enjoying the second year with some experience behind me. Anyway, the Thursday before spring break last year, I found myself crying my eyes out in the principal's office when she had to let me go. (Yes, I am NOT fun to pink slip :) They did a re-organization of the school, went to straight grades, and with only 3 kindergarten classrooms, there were one too many teachers and not enough classrooms. Good-bye first year me. I was so sad and struggled with feelings of defeat, but I knew in my heart that God would provide. I told all my sweet colleagues through tears that He would use this situation to be glorified and show His faithfulness. And He definitely did. What a moment it was last summer when I was offered the home school job I now have. Such a blessing. It has certainly stretched me as all teaching jobs do, but with a much different stress than the administrative responsibilities of public school. I have thoroughly enjoyed working for this family. But oh, how I often miss those kiddos. I poured my heart and soul into my students. I do have days when I long to welcome 22 sweet little lives into my classroom to influence and learn from each day, but I trust God's plan. And what a joy this year on spring break be writing about my sweet baby love....a lifetime of the most important teaching and learning ahead of me. My ultimate dream. Needless to say, God has used all this to remind me that He is not a God of confusion. He can be trusted and He is for us even when we feel confused or sad out of our minds. Seek Him with all your heart, and courageously move where the Spirit leads!!
"For I know the plans I have for you," declares the Lord, "plans to prosper you and not to harm you, plans to give you hope and a future. Then you will call upon me and come and pray to me, and I will listen to you. You will seek me and find me when you seek me with all your heart." Jeremiah 29:11-13