Goodbye weekend, hello Miscellany Monday!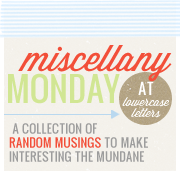 1. Girls' Weekend 2011.
Yesterday I returned home from some wonderfully much needed girlfriend time. Several years ago God beautifully orchestrated a group of amazing women to come together for bible study, friendship, and simply doing life together in Cincinnati. We all came to the group at different times, but when we met we were all in early/mid twenties, not married, no kids. So we've been through a lot. Since then we have been scattered to different states and we are all 30 or over and in all kinds of different seasons of life. There has been some serious heartache and some beautifully answered prayers in that sweet circle of friends; times when we've stayed in touch well, and times when we've been less connected. Yet our friendships remain. It takes a long time to develop deep friendships when you move to a new area and go through some major life transitions like I did a couple years ago. Definitely some sadness comes a long with that. Needless to say, it was a joy to be together again for some time away. We all agreed that the friendships in that group are more like family, and it's just not something that can be recreated. Our weekend was filled with talking and laughing until our throats hurt, crying together, praying together, and eating some seriously yummy food. I think most of all we experienced how life giving it is just to have your heart heard, especially by the people who have seen you through much of that life that has carried you to this moment. Those friends are my soul friends - the ones who will cry with me in my darkest moments, rejoice with me in the best ones. We are prayer warriors for each other. I am so grateful. (And yet I took no pictures...little makeup, lots of pajama wearing...so I'll have to borrow a few from others and share them later!) Thank you friends for the fun time!!
2. Baby registry - advice needed!
So after spending so much time with friends who shared all their baby/birth/parenting stories and pumped me up for mine, I came back ready to register. It's time to get ready for this baby! (Shocking as that may be to me!!) So Kevin and I went to Target, signed up to get one of those gun things, and tried to bust a move. Easier said than done. So I need some advice from you!! What are your favorite lists to work from? What store do you like to start at? Where should I register? (I'm thinking Babies R Us, Target, and Amazon) Kevin loves to have a plan, and I realize I need one! I've taken care of lots of babies....but never lived with one! :) Where in the world do you start, and how do you make the best choice on more specific items when a list just gives you generic ideas? Anyone still with me? Help!!
3. Sweet surrender.
Okay, when you are preparing for your first child, I'm finding that other people's birthing and parenting "war stories" can get me a little crazy if I let them. (Though at the same time I love reading every single detail of all your birth stories...I'm just so weird right now in real life!! :) Wondering what it will be like for me, getting overwhelmed with the unknown, hearing that "if you think you're getting big/uncomfortable/in pain now, just wait until you're further along!"....it can all get to be a bit much sometimes at this stage of the game. Of course no one is ill willed, just wanting to share their experience and help me prepare. I guess I like to live in denial for now. ;) If you're a bit of a psycho overthinker like me, you have to be very discerning about what to embrace and absorb. And I'm learning to simply surrender...one day at a time. I don't know if it's the pregnancy, hormones, or what, but lately I just desire quiet peace. Especially in my heart. Like resting in the calm before the storm, and just enjoying that calm. I want to experience the freedom of trust. Knowing that this peace and trust is a fruit of the spirit, a result of being connected to the vine, I know now more than ever I need to get connected to Him.
"You keep him in perfect peace whose mind is stayed on You, because he trusts in You." Isaiah 26:3
"And the peace of God, which transcends all understanding, will guard your hearts and your minds in Christ Jesus." Philippians 4:7
4. A great idea!
 Recently I found an awesome idea in a Family Fun magazine. I don't know about you, but I just hate to throw away cards that people get me for any occasion. I'm just too sentimental. However my husband doesn't like the paper pile up, and doesn't think I can really enjoy them the way I have them stored. So in this magazine I found something that will change my life - making a book out of the cards! Seems so simple, but genius! I have lots of leftover metal rings from teaching, so I am planning on punching 2 or 3 holes in the cards, making a cute cover out of cardstock and maybe something sturdier, then putting them on a shelf or in a basket to enjoy....when I get all this out of storage of course! This will be wonderful to start out for my little person this summer!
Find this super cute idea and the source for this picture
here!

5. Reading this and loving it -
I was recently reading the blog, 1+1+1=1, and found a great resource about biblical parenting called Raising Godly Tomatoes. What's awesome is you can read the whole thing online. I know there are a million and one opinions on sleep schedules, godly discipline, etc., but I love what the author of this book has to say so far. I know that every child is different and what our baby will be like is unpredictable at this point, but I'd like to be somewhat prepared, and I know I have more time now than when I'm sleep deprived! If you've heard of it I'd love to know what you think. If not, check it out and let me know!
That's all for now. More to come this week like new preggo pics and how imperfect I truly am. Exciting, right? :) I know I fit a ridiculous amount of words into these posts - imagine talking to me in real life!!! Also, if I haven't told you enough, your kind words mean the world to me! I can't tell you what an encouragement you are - so THANK YOU!!!