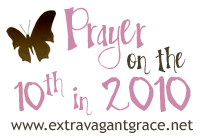 I'm sure all of you have noticed how awesome this "date" in history is. October 10, 2010. It's crazy to think a day like this won't come around for 100 years! Kevin and I have some friends due any time with their little girl, and I was so hoping she would come today! I love the idea from
Extravagant Grace
to designate this day to prayer. I have experienced the power of prayer in my own life, I've seen God powerfully move through it in others, and I encourage you to speak boldly with your Savior as well. I have friends and family struggling with illness, heartache, and pain, as I know we all do. We also have so many reasons to rejoice and be grateful. We are desperate for our Father in heaven, as he is the the great Healer and the ultimate Redeemer. How awesome is it that we have the opportunity to "approach the throne of grace with confidence!" Do not miss this beautiful privilege. I love Steven Curtis Chapman's old but great song, "Let Us Pray," which I've posted as an extra "Song for the Sabbath" today.

Also, to commemorate this special day in our history, devote 10 minutes today to praying for the first 10 people God brings on your heart. I would also personally encourage you to ask God to lay on your heart how he would love to use you to minister to orphans, the poor, needy, or handicapped wherever you live. Kevin and I participated in a life-changing event Friday night that I'll share with you soon. It certainly brought my heart to its knees before the Lord and what he calls us to do. Also maybe take a minute to meditate on Luke 14:12-14 and read the story surrounding it. I am currently reading a book that highlights this scripture and once again, convicted me of how we should be living. Through his word we can see that God clearly has great intentions for using his committed followers to loving on his children. He calls us to reach out to the broken. For his glory to be revealed.
"
Then Jesus said to his host, when you give a luncheon or dinner, do not invite your friends, your brothers or relatives, or your rich neighbors; if you do, they may invite you back and so you will be repaid. But whenyou give a banquet, invite the poor, the crippled, the lame, the blind, and you will be blessed. Although they cannot repay you, you will be repaid at the resurrection of the righteous."