Today I'm linking up for the first time with
Frou Frou Decor's
"Fabulous Friday Finds!"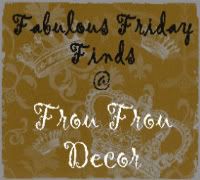 While I'm super bummed I completely forgot to take photos, I did make some yummy 'fabulous finds' for company we had over last night! One I adapted from a
Rachael Ray
recipe, and two I found online this week. I was very happy with how they turned out, so today I'm sharing their fabulousness with you!
Mix together olive oil, honey, cumin, cilantro, a squeeze of lime, salt and pepper. (
Obviously to taste!)

Marinate for about 30 minutes, or as long as you like, then cook on the grill or bake for 20-30 min. at 400 degrees.
(This would also be good in some sort of southwest soup, salad or quesadillas - yum!)
Rinse one bunch of asparagus, then snap off the thick ends. Preheat the oven to 400 degrees. Spread them out on a cookie sheet, drizzle with olive oil, then roll to coat. Mince 4 or so cloves of garlic, and sprinkle that along with salt and pepper over the asparagus. Cook for 10 minutes or until desired tenderness.
Peel and quarter 1 - 2 lbs. of potatoes and mince 4 or more cloves of garlic. (

Kevin said he could have handled more. I was cautious.)

Boil the potatoes and garlic for 20 minutes, then drain. Add 1 Tbsp. of butter and an 8 oz. container of cream cheese, and beat with a mixer on medium until smooth or desired consistency. Salt and pepper to desired taste.

I followed the video for the most part, but I used 8 yukon gold potatoes for 4 people. (

with plenty left over

) I also chopped up some chives to add in, but at the last second forgot them! I loved this recipe - they were a success!

Being from a small country town in Indiana and a mother who makes delicious Sunday and Thanksgiving dinners, I hate to admit this was the first (maybe the second??) time I've made mashed potatoes. Definitely not the last!
:)
We served chips and salsa (Private Selection medium - my favorite!!) for an appetizer, Tastefully Simple's Beer Bread,

(we made this one with Mountain Dew and it was good! thank you mom, this was our last pack from the box you gave us!),

our company brought dessert, and we had a lovely night of laughter and conversation!
Have a fabulous Friday and weekend!