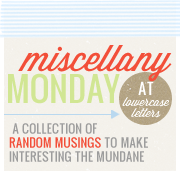 1.
I am pretty tired today. Kevin recently told me, in response to my complaining, that in Proverbs it says, "A fool is a person who wants to go to bed late and get up early." Guilty.
2.
I'm sure I'm in good company when I say I can feel Fall coming. My excitement is certainly building for this crazy beautiful and refreshing time of year. We were in World Market yesterday and celebrated the season that is soon-to-be by buying some Pumpkin coffee. Yum! I can almost taste the chili, hot cider, carmel apples, and pumpkin desserts!
3.
In the next week or so, Kevin and I are pretty intent on completing our first DIY project as a married couple. We are going to attempt to make a budget friendly upholstered headboard, and we're really excited about it! We're also excited about the upcoming the Labor Day sales that will certainly work in our favor. I have some cute photos of our adventure in the fabric store yesterday, but I'm feeling a little too lazy to get to that right now. (See #1)
4.
Have you seen the show Masterchef? Kevin and I are loving watching it online. It makes me want to get up and cook some sort of gourmet meal everytime it's over. I've decided for now I would like to conquer the daunting challenge of perfectly poaching an egg!
5.
Have you heard of the pacifier that automatically closes when it drops?? How great is that! Some friends were telling me a couple days ago about one they received as a shower gift. I am loving the idea, and the ones I found are super cute!