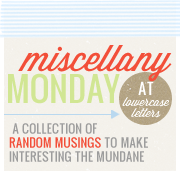 1.
On Friday Kevin and I were invited over for dinner by a dear, sweet couple who went to Israel with us. They also invited their daughter and son-in-law, as well as another young couple who was on the trip with us. We had the best time and seemed to laugh the entire night. One of the couples is pregnant with their first, so our conversation involved some pretty lively discussion about baby names and baby products. (It doesn't help that I might just have a little baby fever!) My favorite latest discovery: the Moby Wrap. I would love to try this some day!
2.
Today was my first day of homeschooling - yay! It was an abbreviated session, but it was so much fun. Having so much flexibility can surprisingly be a little difficult to get used to, but even after today I have so many new ideas for how to do things. As a newbie homeschooler the first thing I realized is we have way too much curriculum! :) That's not necessarily a bad thing, it just means I have to be really intentional and discerning about teaching what's most important as well as what he enjoys. We started out the day by reading The Dot by Peter Reynolds. It is one of my absolute favorite children's books!
3.
Kevin and I ate at one of our favorite restaurants, Bonefish Grill on Saturday night, thanks to some generous friends who blessed us with a gift card. Earlier that day, Kevin did a session at a leadership event at our church, talking about walking with the Spirit, living out the biblical "one anothers," and discipling like Jesus by being "on mission" together for Christ. So it was anything but ironic when we had just the opportunity to do that Saturday. While we were waiting for a table, a couple invited us to sit with them at one of the smaller tables in the bar area. We intended to only sit there until our buzzer went off, but as it turns out, we were having so much fun getting to know the couple and a mother and son whom they had also invited to join us, that we ended up staying the entire time! The crazy thing is, we actually did go to our table when it was available, but it just didn't feel right to leave our new friends and the opportunity for fellowship that God had provided. Three sets of strangers enjoying a nice dinner together on a Saturday night. An unexpected blessing and a great lesson on being aware and available to God's leading at all times. Our prayer is that God will open up even more doors for him to move in through these new relationships.
4.
Do you know my husband has never had a sloppy joe??? Crazy, I know. So it's on my list to cook this week. I found an awesome slow-cooker recipe for "Dressed-up Sloppy Joes" on Our Best Bites. Maybe I'll serve these yummy fries to go with them! (Don't worry- I'll have the trusty old "Manwich" on stand-by. Yum!)
5.
At the homeschool conference Kevin and I attended a few weeks ago, we heard a fascinating speaker, Israel Wayne, talk about raising kids, having a Biblical worldview, and societal norms passed down from long ago that we have unfortunately come to accept without questioning. Kevin loved every one of his messages, and has been telling everyone what he learned. Definitely worth checking out!