Today I am linking up to "Miscellany Monday" from lowercase letters by carissa graham. Congrats to her on beautiful baby Sage!!!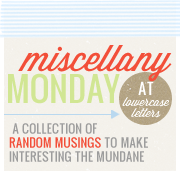 The randomness in my world right now:
1.) Summer has officially begun for me, (Chai is loving his long walks!), and I am praying expectantly and trusting that God will provide the job that is his best for me this coming school year.
"And my GOD will meet all your NEEDS according to His GLORIOUS riches in Christ Jesus." Philippians 4:19
2.) I've decided that due to my plain and simple wardrobe style, my new thing is going to be "flower headbands." I think I'm a girl who needs to where flowers in her hair. :) And we saw a super cute one this past weekend that I kind of wish I had bought. (But of course I thought I could just as easily make one...such a blogger!) I am thinking about getting one from
Whippy Cake's
cute etsy shop. They're even interchangeable!
Or maybe I will buy some of these super cute flower accessories from
Handmade Flowers
, get some felt and my hot glue gun, and seriously try to make my own!
3.) I love the beautiful and quickly growing cornfield in our "back yard." The kids in the neighborhood love it too!
4.) I have been researching Bible Studies for young kids, and found out that Kay Arthur has written several strong, solid studies that teach children between ages 8-12 how to really study the Bible. I love
Kay Arthur's precept studies
. She does an amazing job of writing in depth Bible Studies that really teach you how to study God's Word and listen to the Holy Spirit.
5.) Kevin and I are getting ready to go to ISRAEL this Friday!!! We will be there for 10 days and are so excited to literally walk where Jesus walked. We are blessed to get to go because Kevin is one of the official ministers acting as a leader of one of the groups from our church on the trip. Due to the fact that I might not be on the internet at all while I'm there, I'm going to plan a post for each day that will show where we are, and I'll give the scripture from the Bible that references it. In preparation for the trip, I have started doing a study on the life of Jesus called, "Knowing Him: A 50 Day Study of the Life of Christ." All the resources from
live26.org
are awesome for empowering our generation to become disciple makers and carry out Christ's mission of multiplication.
Have a happy Miscellany Monday!